South Korea: Smart Vending Machine at the Cafe
2023-09-04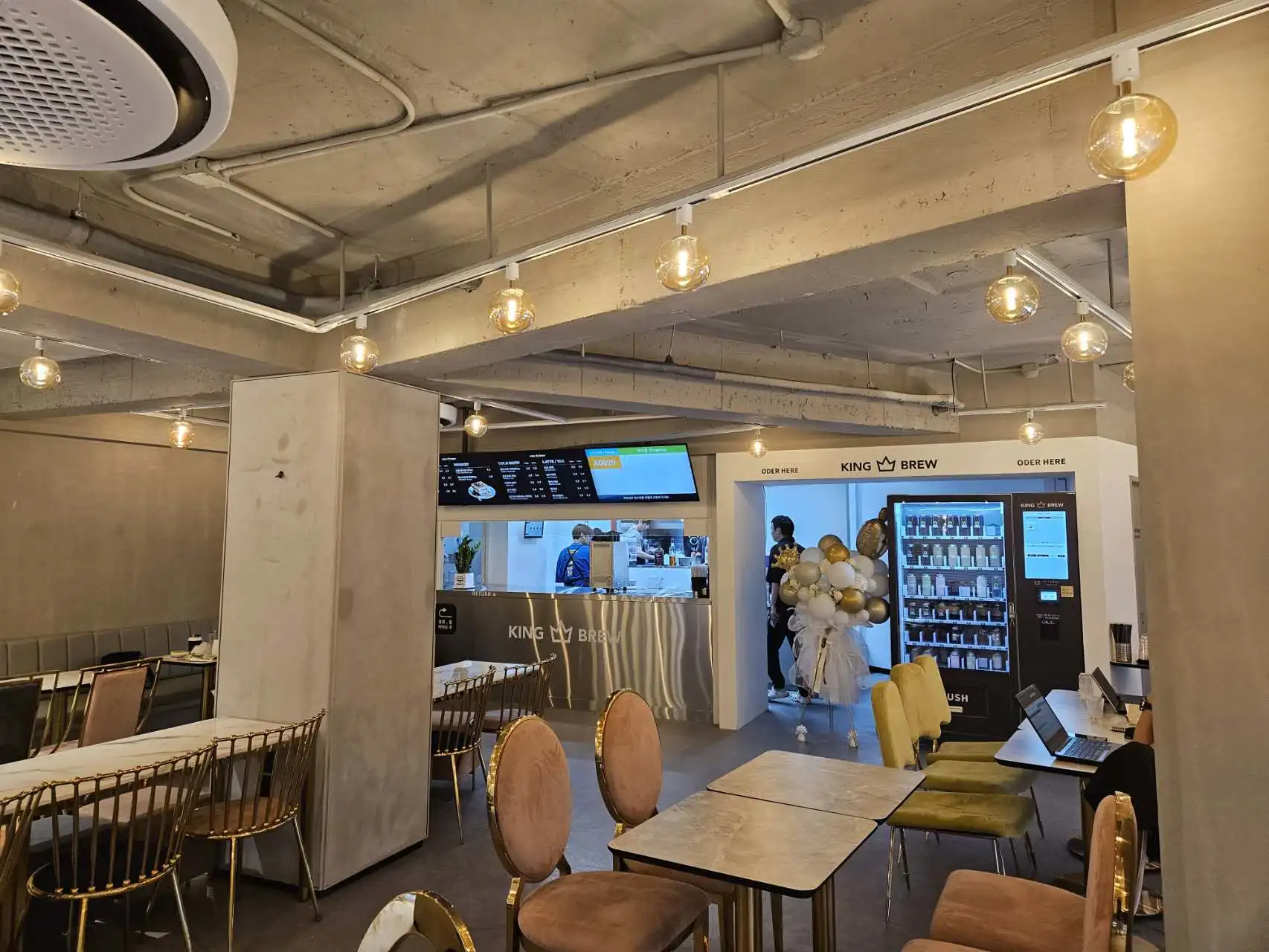 Our esteemed client, a dynamic café owner in Korea, faced the challenge of optimizing operations, reducing labor costs, and enhancing the customer experience. In their quest for innovative solutions, they turned to our cutting-edge smart vending machine, specially designed to cater to their unique needs.
The café industry is highly competitive, and our client was determined to stay ahead of the curve. They sought to:
Streamline Operations: The café was grappling with the need to optimize labor costs while maintaining efficient service.
Enhance Customer Experience: They aimed to provide their customers with a convenient, self-service shopping experience that would reduce waiting times and increase satisfaction.
Expand Product Offerings: To diversify their product range beyond food items, they wanted to introduce bottled drinks while ensuring customers could easily access product information.
Our smart vending machine, equipped with a 21.5-inch user interface, provided the perfect solution to meet our client's challenges head-on. Here's how we transformed their café operations:
1. Seamless Food Ordering: Customers can now effortlessly place food orders through the intuitive vending machine interface. They can select their desired items, receive a receipt, and proceed to the reception area to collect their orders, eliminating the need for additional café staff to take orders.
2. Effortless Drink Selection: In addition to food, the vending machine offers an array of bottled drinks, including coffee and juice. This new dispensing method reduces customer waiting times significantly, as they can conveniently grab their favorite beverages from the vending machine. 
3. Detailed Product Information: Our smart vending machine supports the display of extensive product details. Café operators can upload up to 10 high-resolution images for each item, providing customers with information about materials, ingredients, and product origin. This transparency builds trust and enhances the overall shopping experience. 
4. Bulk Purchases: To cater to the needs of their diverse customer base, customers can purchase up to 5 items in a single transaction, making it convenient for those looking to buy multiple items or cater to groups. 
By integrating our smart vending machine into their café operations, our client achieved remarkable results:
Labor Cost Reduction: The café was able to reduce labor costs significantly by automating the order-taking process, allowing staff to focus on other essential tasks. 

Customer Satisfaction: Customers now enjoy a seamless and self-service shopping experience. Reduced wait times and access to detailed product information have led to increased customer satisfaction and loyalty. 
Diverse Product Offerings: With the ability to sell both food and drinks, the café expanded its product range and revenue streams, attracting a broader customer base. 
Increased Efficiency: The vending machine has improved overall café efficiency by reducing congestion during peak hours and ensuring a smooth flow of customers. 
Our smart vending machine solution has revolutionized our client's café operations, addressing their key challenges and enhancing their competitive edge in the dynamic café industry in Korea. By embracing innovation and automation, our client has successfully created a more efficient and customer-centric café experience. We are proud to have played a pivotal role in their journey towards success.
At WEIMI Smart Vending, we are committed to providing cutting-edge solutions that empower businesses to thrive in an ever-evolving market. If you're interested in transforming your operations and enhancing customer satisfaction, please do not hesitate to reach out to our dedicated team. We look forward to partnering with you on your path to success.
---
About Us
China's NO.1 Smart Fridge Vending Machine Exporter
China's Top 3 Vending Machine Exporter
8 Years.

 Production experience

60 Countries.

 Exported to 60+ countries

30,000 Machines.

 In the field

16,000 ㎡.

 Production base

800 Machines.

 Monthly production capacity
Contact Us
Email: nate@micronvending.com
Whatsapp: +8613826225189
Skype: nate.ye2
WeChat: 13826225189