Norway: Elevating Convenience and Innovation at Porsche Centers with Smart Fridge Vending Machine
2023-08-28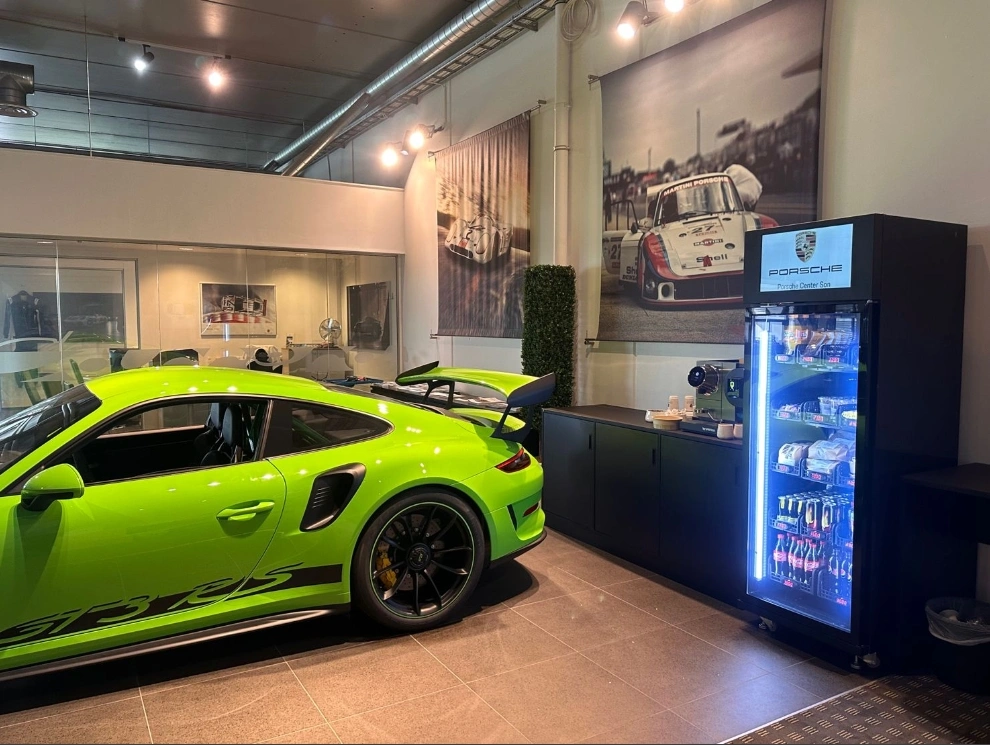 At WEIMI Smart Vending, we take pride in transforming traditional retail experiences into seamless and innovative solutions. Our recent collaboration with Porsche, a renowned name in luxury automobiles, stands as a testament to our commitment to redefining convenience and customer satisfaction. We are excited to share the success story of how our smart fridge vending machine has seamlessly integrated into Porsche Centers, enhancing both customer experiences and operational efficiency.
Challenge: Elevating Customer Experience in Porsche Centers 
Porsche Centers are known for their impeccable attention to detail and commitment to offering an unparalleled customer experience. Seeking to elevate the convenience factor for both customers and staff, Porsche approached us for a solution that aligned with their brand's ethos while introducing cutting-edge technology into their showrooms.
Solution: Our Smart Fridge Vending Machine
Our smart fridge vending machine, designed to cater to a wide variety of products ranging from daily necessities to snacks, drinks, farm produce, cakes, and bread, perfectly aligned with Porsche's vision. Equipped with a 21.5-inch touchscreen and customized goods baskets, the smart fridge seamlessly integrates with the modern aesthetic of Porsche Centers.
The pivotal feature of selling products by both piece and weight, enabled by our weight-sensing technology, greatly resonated with Porsche's attention to precision and detail. Each goods tray's weight sensor accurately measures differences before and after each transaction, ensuring accurate charging and a seamless shopping experience.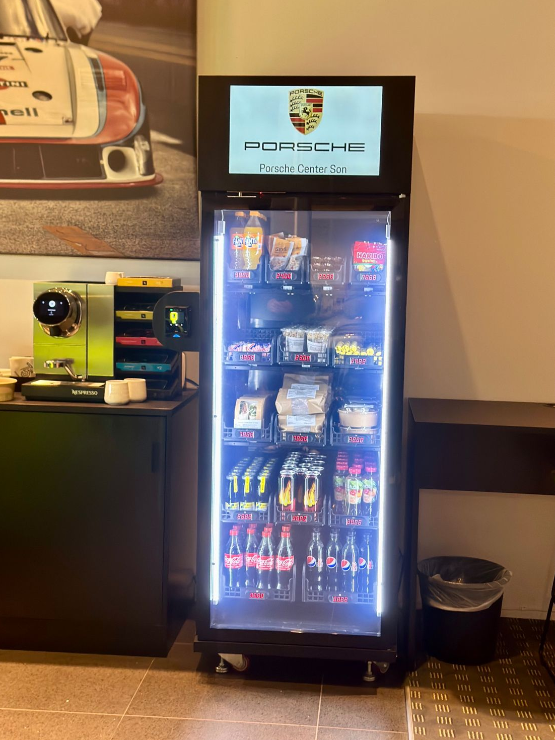 Results: Transforming Customer Convenience and Operational Efficiency
The integration of our smart fridge vending machine into Porsche Centers has brought forth a range of benefits:
1. Enhanced Customer Experience:
Customers now enjoy the convenience of shopping within the Porsche Center itself, with an experience that closely resembles grabbing items from their own home fridge. The interactive touchscreen empowers customers to explore products and make informed choices.
2. Efficient Operations:
The intelligent operating system of our smart fridge enables Porsche staff to effortlessly manage inventory, access real-time sales data, and optimize energy consumption. This efficiency translates to streamlined operations and enhanced customer service.
3. Durability and Aesthetics:
Our smart fridge's premium hardware, including a long-lasting compressor, anti-corrosion metal plates, and an insulated construction, aligns with Porsche's commitment to quality. The sleek design and double-glazing front add to the overall aesthetics.
4. Global Standards:
Our successful exports to Spain, England, America, and other countries highlighted the adaptability and global appeal of our smart fridge vending machines, in line with Porsche's international presence.
As a result of this collaboration, Porsche Centers have successfully integrated our smart fridge vending machine, showcasing their dedication to enhancing customer experiences through innovation and convenience. This partnership stands as a prime example of how technology can seamlessly blend with luxury, creating a retail experience that is as refined as Porsche's automobiles.
To learn more about our innovative vending solutions and how they can transform your business, please visit our official website or get in touch with us. 
Smart Fridge Vending Machine
---
About Us
China's NO.1 Smart Fridge Vending Machine Exporter
China's Top 3 Vending Machine Exporter
8 Years.

 Production experience

60 Countries. 

Exported to 60+ countries

30,000 Machines.

 In the field

16,000 ㎡.

 Production base

800 Machines.

 Monthly production capacity
Contact Us
Email: nate@micronvending.com
Whatsapp: +8613826225189
Skype: nate.ye2
WeChat: 13826225189